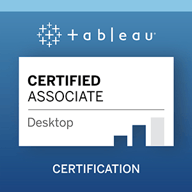 So you are looking at becoming a Tableau Desktop Associate?
Good on you! And you should be totally proud of yourself!
I took mine late last year, and I'm here to share my experience and tips around it.
First things first, things you probably already know:
It costs $250.00 (USD), it has 36 multiple choice questions, you have 2 hours to complete it, and you need to score at least 75% to pass. It will be a combination of theory and practical questions. The session will be proctored (over webcam).
So knowing the above you would want to make sure you are prepped well for the exam. How do you do that?
Here are my tips:
_______________________________
Familiarise yourself with Tableau Desktop by:
- Using it
- Practice exam
- Paid practice exam pack
Here are some links:
Tableau's Exam Page: https://www.tableau.com/learn/certification/desktop-certified-associate
Tableau's Guide: https://mkt.tableau.com/files/DesktopQA_ExamGuide.pdf?_fsi=GA9EOn9C
Lukas Halim's Udemy Course: https://www.udemy.com/tableau-accelerate-your-career-and-get-certified/
_______________________________
Before the exam:
- Make sure to test your connection! I made a mistake in assuming that my home connection was good enough - only to find out that it was too slow and I was unable to take the exam. Thankfully, my office wasn't that far so I could rush there on time.
- Make sure you have a webcam and microphone ready.
- Make sure your desk is clear of books and papers, and there are no people around you
- Arrive/Connect early
- The Procter will ask you show him your surroundings with the webcam
- Shortcut keys don't quite work, so don't rely on them
- For people using Tableau on a Mac, note that the exam is in Windows. The Alt/Option drag feature equivalent is a right-click drag on Windows.
_______________________________
During the exam:
- The exam will be done in a virtual machine with Tableau Desktop installed. It also has a web browser installed so you can Google solutions if needed. Remember that everything MUST be done IN the virtual machine.
- This is a weird one: Don't assume your proctor knows the rules. I had an inexperienced proctor who questioned why I was opening the folder containing the datasets, and why I was launching Tableau Desktop. This wasted precious seconds (waited for him to 'check' the rules). I also had to tell him that i AM allowed to google for solutions. I have to admit that it was quite stressful, but as always, keep calm and be courteous.
- You may encounter disconnects from the virtual machine (mine froze 2-3 times). When this happens, just speak out to the proctor and he'll reconnect you.. no biggie.
- Read the questions. Very. Carefully. I know exams are stressful and you might miss some important keywords. More often than not, the solutions are not too difficult, and you might miss a key part of the question(for instance forgetting to put a filter for a certain month or year). And trust me, the multiple choice answers WILL include these values.
- If you find yourself stuck with a question for too long, mark it. You're allowed to revisit the question any time during the exam.
-After the exam you'll receive the results immediately after you submit your answers.
_______________________________
I've passed! Now what?
Woo-hoo! Well done! All your hard work paid off.
Add yourself to the Certification directory for some bragging rights ;)
https://www.tableau.com/support/certification/directory
It doesn't mean it's the end of the Tableau journey, though! Continue participating in Make Over Monday and/or Workout Wednesday and keep practicing.
If you're up for it, take on the next challenge - Tableau Desktop Certified Professional! (I'll be blogging about my experience with this exam soon!)
_______________________________
I didn't pass :( Now what?
It's alright! Really, don't beat yourself over it. In the wise words of Alfred Pennyworth:
"Why do we fall sir? So that we can learn to pick ourselves up" -Alfred Pennyworth (Batman Begins, 2005)
At least you know that you still have to work on your Tableau skills and work towards that direction.
You should've received a score summary for each Mod (eg Mapping, Dashboards, Analysis). For any of them which you scored lowly, work on those.
Focus on questions which you found difficult, and redo the practise exam (if you didn't do it, I strongly recommend that you do)
Note: You can retake the exam, but you'd have to pay for it again.